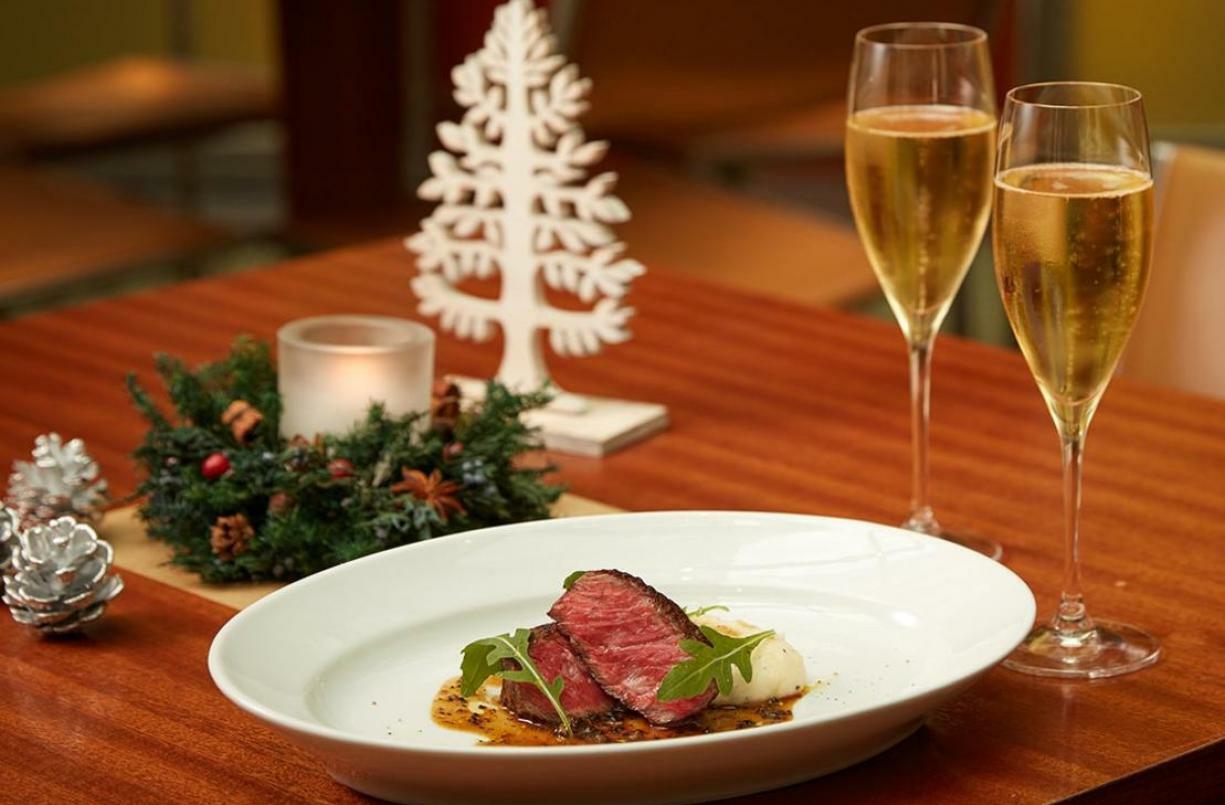 Christmas dinner at the restaurant?
It's not an idea to reject, on the west it's a very trendy way - we do not even talk about how pratical it is :)
If you want to spend your holidays with relaxing and with your family instead of cooking in the kitchen, consider our offer. In the Pest-Buda Restaurant, in one of the oldest restaurants in Budapest, we are waiting for you with authentic Hungarian and classical Christmas meals even on Christmas!

Christmas is near when we peacefully celebrate the holiday of love with our family together by the festive table on the Christmas dinner. After the tyring procedure of the big cleaning, shopping and buying gifts, worths it to feel the spirit of the preparation: details of the decoration, the order of meals and drinks, desserts, and everything else that  makes so special this evening. But let's admit, sometimes the preparation is a very exhausting task, so that we can not even enjoy the essence of the holiday. Do you know that Christmas dinner in a restaurant can be as cozy as if you were at home? If you choose to enjoy your holiday as a guest, you can choose from a number of places in the city center.
What if this year you do not have to worry about making a Christmas menu? If you are looking for authentic Hungarian dishes, you can get rid of the procedure of shopping, cooking and hospitality: a pleasant Christmas dinner is waiting for you and your  family in our Pest-Buda restaurant!
 
Christmas dinner in a restaurant as if you were in granny's kitchen - this is what we offer!
 
As mentioned it above, there are many restaurants open at Christmas time, taking advantage of this growing trend that we spend Christmas dinner in a restaurant. But still, let us confess, is it possible to find the delicious Hungarian, traditional flavors of the granny's cuisine in a restaurant?
Well, in the Pest-Buda restaurant, this is our goal: at Christmas we prepare our dishes to remind you to the real homemade flavors of the grandmother. On other days of the year, we are also fond of such food and mood, but during the celebration of love we find it extremely important to ensure a bit of sense of home and family atmosphere to our guests- since we know that most people choose this option because grandmother can no longer prepare the favourite dishes ... And although her love can not be replaced, we are unbeatable in delicious meals!
Our christmas dinner offer: in our restaurant on christmas you can choose among the following dishes!
"We have prepared our December chef's offer so that festive dishes matching the Christmas atmosphere can be found on our guests' table in the Pest-Buda Restaurant .
Quince velouté with roasted duck liver and toasted pine nuts 1920 Ft
Zucchini soufflé with fried zucchini and marinated tomato 2380 Ft
Thyme roasted chicken breast with butternut squash,
bacon and brussel sprouts 3780 Ft
Confit wild boar with cranberry sauce and chestnut donuts 4760 Ft
Fried lamb cutlet with carrot and orange purée and smoked celeriac 6840Ft
Rib-eye steak with mushrooms, jus and sweet potato chips 6940Ft
Christmas cake with golden raisins and punch sauce 1680Ft"
 
Our christmas opening hours -if you would like to eat the chrsitmas dinner in the restaurant
We really want Christmas to be perfect for you, so you do not have to compromise even at the time! When it is suitable fo you, we'll be waiting for you at our restaurant with a Christmas dinner. We are waiting for our guests with the normal opening hours in December  at the Buda Castle, in the Fortuna street.
Christmas dinner in a restaurant, festive mood in the historical beauty of the buda castle
 
At Christmas time we have more time together: a long family walk togehter in the Buda Castle is an excellent family program during the holidays. The misterious cobbled streets with the winter lights and dazzling buildings of the Buda Castle district, promise a great relaxation for the younger and the older ones of the family. After a long walk, a magnificent Christmas dinner at the restaurant will make this a wonderful day spent with the family even more complete, and later on we can remember it happily.
In the Pest-Buda Restaurant you can choose a la carte menu from the blackboard specials, from fish soup, stuffed cabbage and other traditional Christmas meals.
If you are arriving for a Christmas dinner in our restaurant with a smaller group or family, please book a table so that we can surely welcome you. You can do this by clicking here.