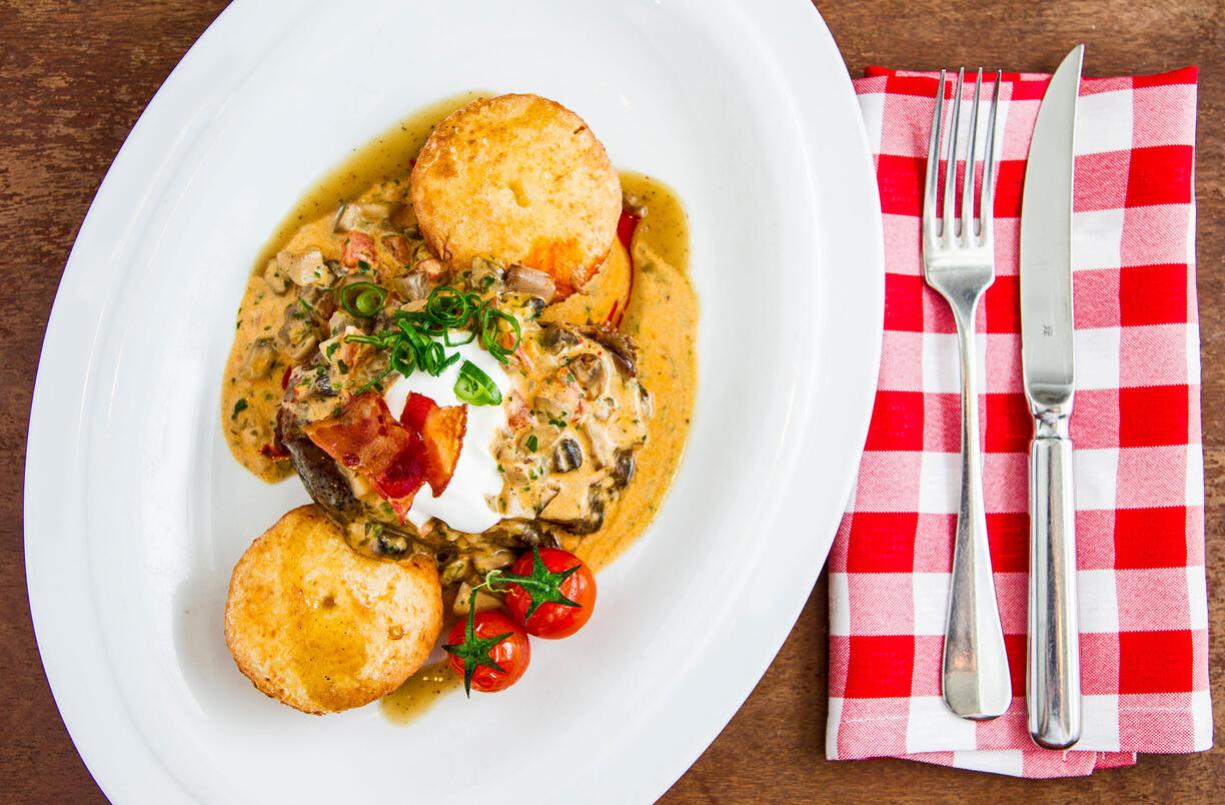 Amaze your loved ones at home with our "Bakony" style pork confit with cottage cheese fritters!
Ingredients (for 4 people)

Pork:

600 g pork
0,3 g salt
0,01 g black pepper
0,5 g garlic
150 g lard
 
"Bakonyi" sauce:

250 g mushroom
0,2 g salt
0,01 g black pepper
100 g smoked bacon
2 g spring onion
60 g pepper
60 g tomato
10 g paprika
0,4 l sour cream
0,005 g fresh majoram
Fresh parsley

Cottage Cheese Fritters:

250 g cottage cheese
2 egg yolks
150 g flour
1 tablespoon sour cream
0,02 g salt
0,01 g baking powder
Oil for (deep)frying

Preparation
 
1. Season the pork with salt, black pepper and garlic. Pre-heat the oven up to 120°C , than confit the pork with the lard.
2. Finaly chopp the bacon, chopp the spring onion and dice the peppers. Leave tomatoes for boiling water for a few minutes then peel it. Afterwords, finaly chopp the tomatoes and remove seeds.
3. Wash and dice the mushrooms.
4. Heat the frying pan and fry the bacon, then add the onions, peppers and mushrooms.
5. Season it with salt, black pepper and majoram. Cook it for 10 minutes, then add the paprika, sour cream, peeled tomato and finally the finely chopped parsley.
6. Mix the cottage cheese, egg yolks, sour cream, salt, baking powder and knead it while gradually adding the flour.
7. Rest it for 30 minutes, then we form small donuts with a tablespoon. Deep fry them for 2,5 minutes in hot oil.
8. Serving is the last step: place 2-3 donuts on the center of the plate, place the pork on it, then pour "Bakony"sauce on to the pork. Decorate it with a hint of spring onion  and sour cream.

Enjoy your meal!