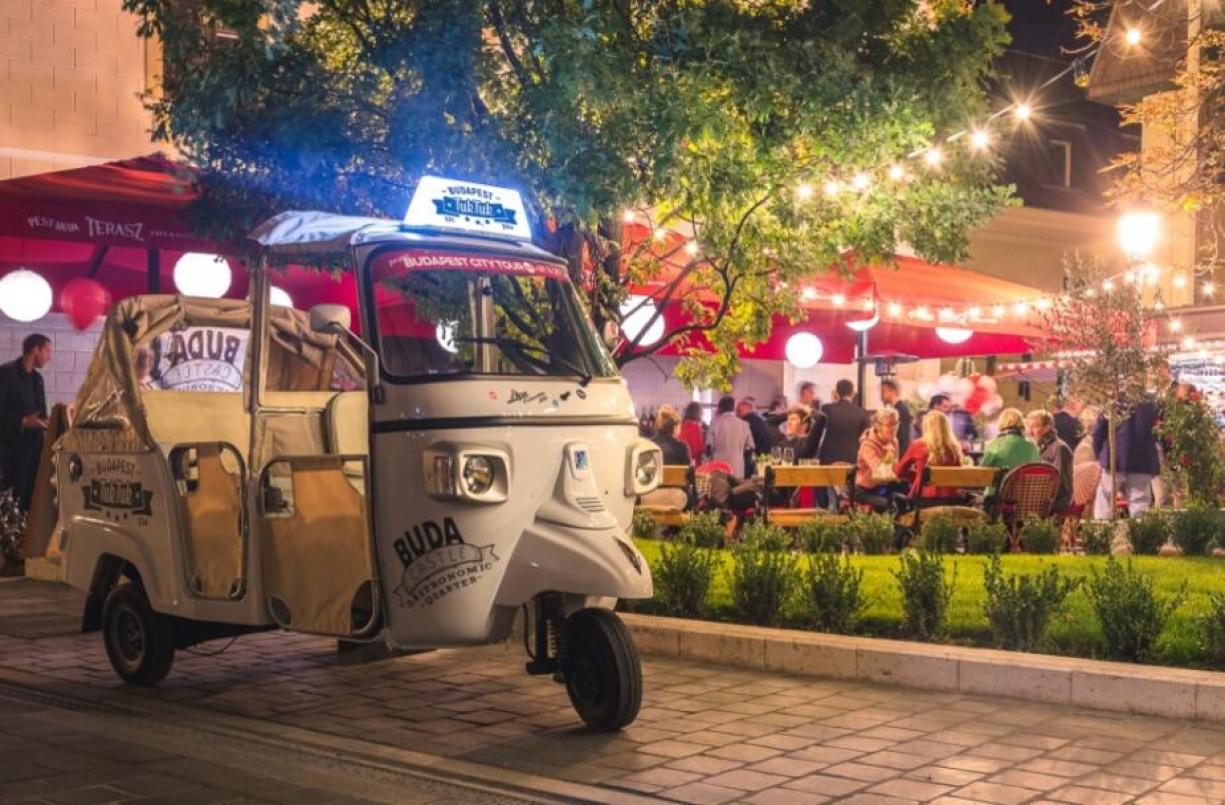 Gawk at Matthias Church with a coffee or Hungarian wine at this alfresco café-bistro surrounded by the beautifully landscaped chestnut trees of Hess András Square. Traditional Hungarian food served at tables made by Pest-Buda Bistro. Open seasonally from March to October.
What could be a better program in a sunny afternoon than ar lunch or dinner spent in a  glamorous place? Pest-Buda Restaurant is a terrace restaurant in Buda, in one of the most beautiful parts of the historic Castle District, just a few meters from the Matthias Church.
Grandmother's favorite homemade meals, beers,  wines and refreshing drinks can be enjoyed on our terrace from the middle of April to the middle of October.
Terrace restaurant in Buda with the taste of grandmother's kitchen
In the spring-summer and milder autumn days, enjoying the majestic atmosphere of the Buda Castle, the delicious dishes from our grandmother's kitchen are tasting even better. Who does not remember its childhood favorites, steaming chicken soup or the delicious Hungarian nut pastry?
The Pest-Buda restaurant with a terrace in Buda is an excellent choice for fans of the authentic Hungarian flavors and family atmosphere.
If you would like to taste the traditional dishes of the Pest-Buda Restaurant, you can book a table by clicking to the button below.
The Pest-Buda terrace restaurant is a perfect choice both for business meetings and family gatherings. We are waiting for you in Buda, in the historical Castle District!
The Pest-Buda Restaurant is a popular place for business meetings, but it is also suitable for smaller family events. This terrace restaurant in Buda, which is located in a glorious milieu, is a perfect place for business breakfast or dinner. Take a long walk with your business partner in the Buda Castle, take a look at the Fisherman's Bastion, the Matthias Church, then come to the Pest-Buda to relax just a few meters from the Church!
The Pest-Buda restaurant with terrace is waiting for the fans of the Hungarian flavors from mid-April to mid-October, but in the cooler time, in the rest of the year, the inside of our cozy restaurant will continue to welcome you.
 
Terrace restaurant is Buda is waiting for you with grandmother's favourite homemade dishes and accomodition
After a memorable trip to the Buda Castle, relax at the Pest-Buda  terrace restaurant in Buda. The historic Castle District is waiting for you with many sights, the cobbled and patinate streets add a more charming atmosphere to this delightful terrace restaurant. This restaurant in Buda, at Hess András Square, located in the shade of chestnut trees, serves as an excellent venue for a refreshing afternoon coffee, as well as a delicious dinner with business partners, family or friends.
And if you are looking for a long stay away from downtown, yet only a few minutes drive from the city center, we recommend the comfortable suites of Pest-Buda Hotel.